by Brian
|
Last Updated:
November 4, 2023
Joshua Tree is a stunning and unique landscape that has captured the hearts and imaginations of countless visitors each year. As a beginner camper or adventurer, you might be unsure of what to expect when exploring this captivating destination. Fear not, for we have crafted the ultimate guide to help you navigate the mesmerizing terrain of Joshua Tree with ease and confidence. Get ready to embark on an unforgettable journey through one of the most iconic national parks in the United States.
Preparing for Your Trip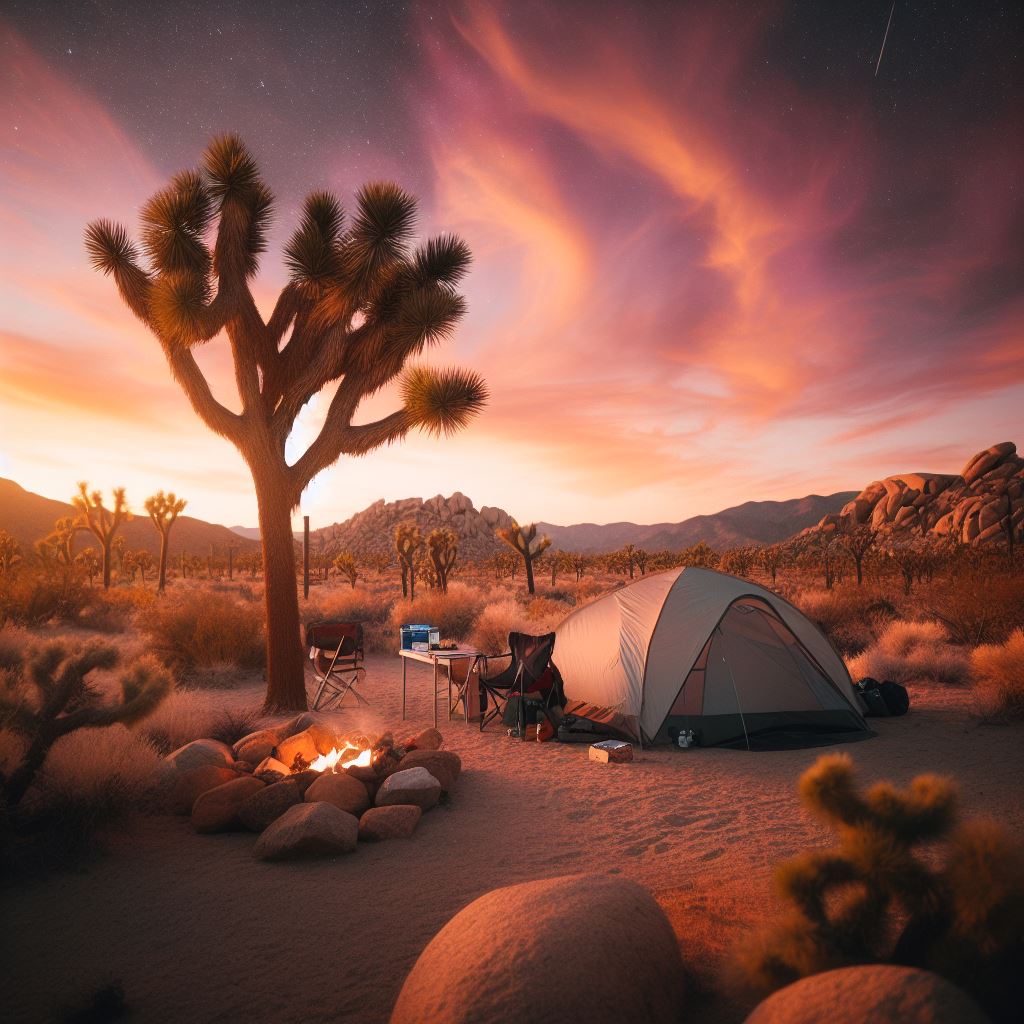 Whats the Best Time of Year to Camp in Joshua Tree?
Plain and simple its Spring and Fall but the best time to camp in Joshua Tree National Park largely depends on the weather and what you're looking for in your camping experience. Here are some considerations:
Spring (March to May): This is often considered the best time to camp in Joshua Tree. The temperatures are pleasant during the day, though nights can still be cool. This is also the time for wildflower blooms, which can be spectacular.
Fall (October to November): Similar to spring, fall offers comfortable temperatures, making it ideal for camping and hiking. The cooler temperatures also mean fewer concerns about dehydration and heat exhaustion.
Winter (December to February): Winter can be a good time for those who prefer solitude and don't mind the cold. Nighttime temperatures can drop below freezing, so proper gear is essential. The park is quieter during this season.
Summer (June to September): Summer is the least ideal time for camping due to the extreme heat, with daytime temperatures often exceeding 100°F (38°C). If you do choose to camp during this time, be prepared for the heat and bring plenty of water.
 What Are the Best Campsites in Joshua Tree?
Selecting the right campground can make or break your experience. Joshua Tree offers nine campgrounds, with some available on a first-come, first-served basis, while others require reservations. Popular campgrounds for beginners include Jumbo Rocks, Hidden Valley, and Cottonwood due to their accessibility and facilities. We'll touch on this more later in the article.
What to Pack for Camping in Joshua Tree
Packing for a desert camping trip can be tricky, but here are some must-haves for your adventure:
Tent, sleeping bag, and sleeping pad
Camp stove or portable grill and cooking utensils (Im a big fan of the JetBoil for quick water heating and coffee making)
Food and water (at least one gallon per person, per day)
Headlamp or flashlight with extra batteries (I
Appropriate clothing (layers, sun protection, sturdy footwear)
First-aid kit, sunscreen, and insect repellent
Navigation tools (map, compass, or GPS)
Weather and What to Wear
Joshua Tree's climate is characterized by hot summers, mild winters, and cool nights. Dressing in layers is key, as temperatures can fluctuate dramatically. Bring sun-protective clothing, a wide-brimmed hat, and sturdy hiking boots. Don't forget a warm jacket and extra layers for cooler evenings.
Acquiring Necessary Permits and Passes
A park entrance pass is required for all visitors. You can purchase a seven-day pass or an annual pass, depending on your needs. Backcountry camping and specific activities like rock climbing may require additional permits. Check the park's website for details.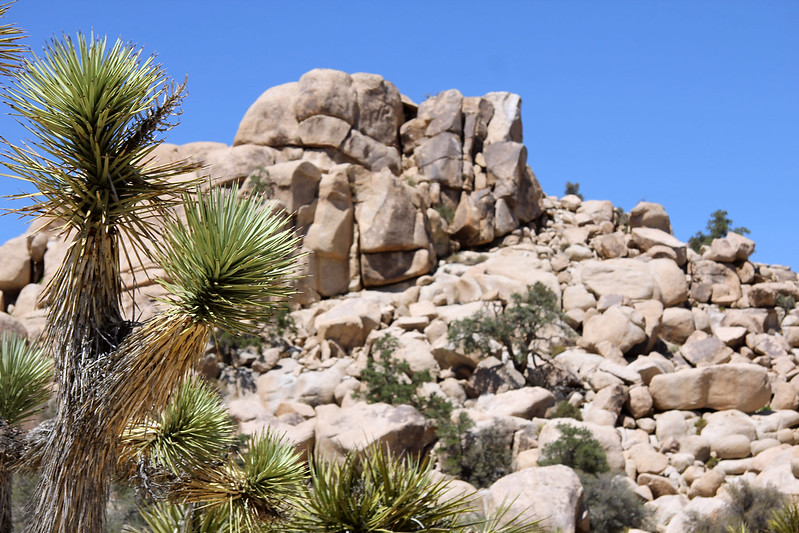 Navigating Joshua Tree National Park
Once you're prepared for your trip, it's time to dive into the magical landscape of Joshua Tree.
Map and Orientation Basics
These are great options for beginners:
Familiarize yourself with the park's layout before arriving. The park is divided into two distinct desert ecosystems: the Colorado Desert in the southern part and the higher, cooler Mojave Desert in the north. The park's main roads include Park Boulevard, Pinto Basin Road, and Utah Trail. Visitor centers, located at the park entrances, offer maps and information.
Important Park Rules and Regulations
Adhere to park rules to ensure a safe and enjoyable experience for all. Key regulations include keeping pets on a leash, not feeding wildlife, and staying on designated trails to protect fragile desert habitats.
Tips for Driving and Parking in the Park
Joshua Tree's roads are generally well-maintained but can become congested during peak seasons. Arrive early to secure a parking spot at popular trailheads, and always obey posted speed limits.
Top Campgrounds for Beginners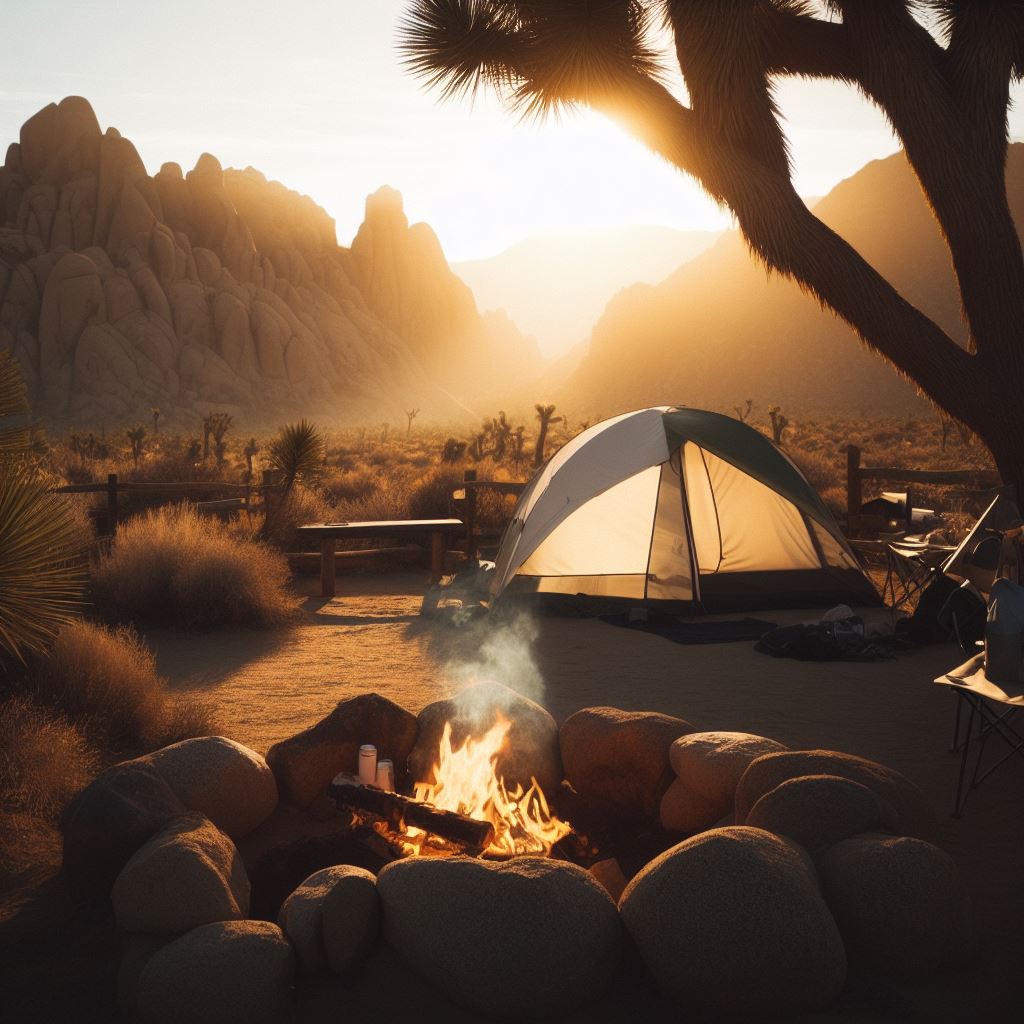 As a novice camper, you'll want to choose a campground that offers the right balance of amenities and natural beauty. Here are three top picks for beginners:
Jumbo Rocks Campground
Situated among the park's iconic rock formations, Jumbo Rocks offers 124 first-come, first-served campsites with fire rings, picnic tables, and pit toilets. This campground is perfect for those seeking a stunning desert landscape and proximity to hiking trails.
Hidden Valley Campground
Nestled among towering boulders, Hidden Valley is a favorite among climbers and hikers alike. With 44 first-come, first-served campsites, this campground offers basic amenities like fire rings, picnic tables, and pit toilets.
Cottonwood Campground
Located near the park's southern entrance, Cottonwood offers a more tranquil camping experience. This campground has 62 reservable sites with flush toilets, picnic tables, and fire rings. Its lower elevation means warmer temperatures, making it an ideal choice during colder months.
Must-See Attractions and Hiking Trails
Joshua Tree boasts a variety of stunning natural attractions and accessible hiking trails. Here are some must-see sights for beginners:
Iconic Landmarks and Points of Interest
Skull Rock: A unique rock formation resembling a human skull
Arch Rock: A natural arch providing fantastic photo opportunities
Keys View: An overlook offering panoramic views of the Coachella Valley
Beginner and Intermediate Hiking Trails
Barker Dam Nature Trail: A 1.3-mile loop showcasing desert flora and a historical dam
Hidden Valley Nature Trail: A one-mile loop through a beautiful valley surrounded by boulders
Ryan Mountain Trail: A moderately challenging 3-mile round trip hike leading to a summit with 360-degree views
Wildlife Spotting and Photography Opportunities
Keep an eye out for the park's diverse wildlife, including bighorn sheep, desert tortoises, and various bird species. Early morning and late afternoon are the best times for spotting wildlife and capturing stunning photographs.
Outdoor Adventure Activities
Joshua Tree offers a range of activities for outdoor enthusiasts of all skill levels. From rock climbing to stargazing and guided nature walks, there's something for everyone in this unique national park.
Rock Climbing for Beginners
The park is renowned for its world-class rock climbing opportunities, with over 8,000 climbing routes available. Numerous climbing outfitters offer beginner-friendly lessons and guided climbs tailored to your skill level. Even if you've never climbed before, expert instructors will help you learn the basics and experience the thrill of ascending Joshua Tree's famous rock formations.
Bouldering
Another popular activity in Joshua Tree is bouldering, which involves climbing smaller rock formations without ropes or harnesses. With countless boulders scattered throughout the park, beginners can try their hand at this exciting sport under the watchful eye of experienced boulderers or by joining a bouldering class.
Stargazing and Night Sky Programs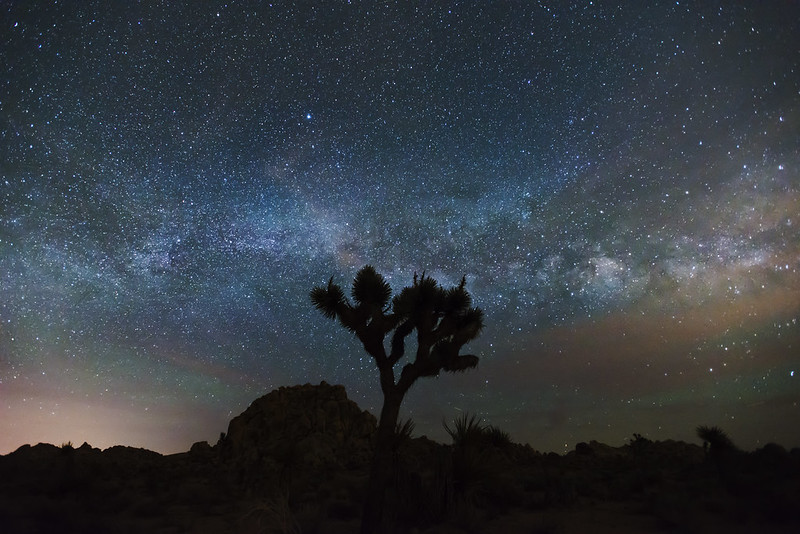 With its remote location and minimal light pollution, Joshua Tree is a haven for stargazers. The park hosts regular night sky programs led by knowledgeable rangers and local astronomers, who will introduce you to the wonders of the cosmos. Alternatively, you can simply enjoy the celestial display from your campsite, using a telescope, binoculars, or even the naked eye.
Guided Nature Walks and Interpretive Trails
Immerse yourself in the park's unique ecosystem by joining a ranger-led nature walk or exploring one of the many interpretive trails. These walks and trails provide fascinating insights into the flora, fauna, geology, and cultural history of the park, making them perfect for beginners looking to deepen their appreciation of the desert environment.
Birdwatching
Joshua Tree is home to over 250 bird species, making it a fantastic destination for birdwatching enthusiasts. Early mornings and late afternoons are prime times for spotting birds like the greater roadrunner, cactus wren, and various species of raptors. Bring your binoculars and a field guide, or join a ranger-led birdwatching walk to learn more about the park's avian inhabitants.
Horseback Riding
Experience the park's stunning landscapes from a unique perspective: on horseback. Several local outfitters offer guided horseback riding tours, ranging from short excursions to multi-day backcountry adventures. No prior riding experience is necessary, as experienced wranglers will match you with a suitable horse and provide basic riding instruction.
Ranger-led Programs and Junior Ranger Activities
Take advantage of the park's educational offerings by participating in ranger-led programs. These may include guided nature walks, campfire talks, and night sky presentations. For young visitors, the Junior Ranger program offers a fun, interactive way to learn about the park's natural and cultural history while earning a special badge.
With such a wide array of outdoor adventure activities, Joshua Tree National Park truly has something for everyone. By exploring these opportunities, you'll create lasting memories and deepen your connection with the awe-inspiring desert environment.
Campsite Etiquette and Leave No Trace Tips
Ensure your camping experience is enjoyable for everyone by following these guidelines:
Proper Campsite Setup and Maintenance
Choose a campsite with a designated tent pad or a durable surface to minimize impact on vegetation.
Keep noise levels down, especially during quiet hours (typically between 10 PM and 6 AM).
Maintain a clean campsite by storing food and scented items in bear-resistant containers or your vehicle.
Keep your gear organized and contained within your campsite to respect neighboring campers and reduce the likelihood of wildlife encounters.
Respecting Wildlife and Plant Life
Observe animals from a safe distance, ideally using binoculars or a camera with a zoom lens.
Never feed wildlife, as it disrupts their natural behavior and may cause them to become reliant on human food, which can be harmful to their health.
Avoid picking plants or removing rocks, as this can damage the delicate desert ecosystem.
Stay on designated trails to prevent trampling fragile desert vegetation and disturbing wildlife habitats.
Minimizing Your Environmental Impact
Follow Leave No Trace principles to ensure you leave the park as pristine as you found it.
Pack out all trash, leftover food, and litter, including micro-trash like cigarette butts and fruit peels.
Use established fire rings or portable camp stoves for cooking, rather than creating new fire scars on the ground. Observe any fire restrictions in place.
Properly dispose of human waste by using designated restroom facilities or, if none are available, by digging a "cathole" at least 6-8 inches deep and 200 feet away from water sources, trails, and campgrounds. Cover the hole and pack out used toilet paper in a sealed plastic bag.
Practice good water hygiene by not washing dishes or bathing directly in streams or lakes. Instead, use a portable water container and biodegradable soap, then dispose of the wastewater at least 200 feet away from water sources.
Encourage fellow campers to follow these guidelines and lead by example, ensuring a positive camping experience for everyone and preserving the park for future generations.

Safety Tips and Emergency Preparedness
A safe and enjoyable trip to Joshua Tree requires awareness of potential hazards and proper preparation.
Dealing with Desert Conditions
Heat and sun exposure can be dangerous, so always wear sun protection, such as a wide-brimmed hat, sunglasses, and sunscreen with an SPF of 30 or higher.
Seek shade during the hottest part of the day, typically between 10 AM and 4 PM. Schedule your activities for the cooler early morning or late afternoon hours.
Be cautious of flash floods in washes and canyons, especially during the monsoon season (July to September). Stay informed about local weather forecasts and avoid entering narrow canyons if heavy rain is expected.
Dress in lightweight, light-colored, moisture-wicking clothing to help keep your body cool and regulate your temperature.
Staying Hydrated and Avoiding Heat-Related Illnesses
Drink plenty of water, even when you don't feel thirsty, to prevent dehydration. Aim for at least one gallon per person per day in hot and dry conditions.
Carry electrolyte supplements or sports drinks to help replace essential minerals lost through sweating.
Recognize signs of heat-related illnesses, such as dizziness, nausea, rapid heartbeat, confusion, and headache. If you experience any of these symptoms, find shade, rest, and slowly sip water or an electrolyte-rich drink.
If you suspect someone is suffering from heatstroke, a life-threatening condition, call for emergency assistance immediately and try to cool the person down while waiting for help to arrive.
First Aid Kit Essentials and Emergency Contacts
Carry a well-stocked first aid kit (like these options) containing essentials like adhesive bandages, gauze pads, adhesive tape, antiseptic wipes, tweezers, a digital thermometer, pain relievers, and any personal medications.
Familiarize yourself with basic first aid procedures, such as treating cuts, burns, and insect bites. Consider taking a wilderness first aid course to build confidence in your skills.
In case of an emergency, dial 911 or contact park rangers. Program the park's emergency phone numbers into your phone or keep a written list with you.
Know the locations of the nearest visitor centers and ranger stations, as well as the quickest routes to access them.
Share your travel plans and itinerary with a trusted friend or family member who can alert authorities if you do not return as scheduled.
By following these safety tips and being prepared for emergencies, you'll increase your chances of having a fun and successful camping trip in Joshua Tree National Park.
Get Out There
A trip to Joshua Tree National Park is an unforgettable experience that offers adventure and wonder for campers of all levels. With the right preparation, knowledge, and respect for the environment, you'll create lasting memories in this extraordinary desert oasis. So, lace up your hiking boots, pack your bags, and set off to explore the magical landscape of Joshua Tree National Park. Adventure awaits!